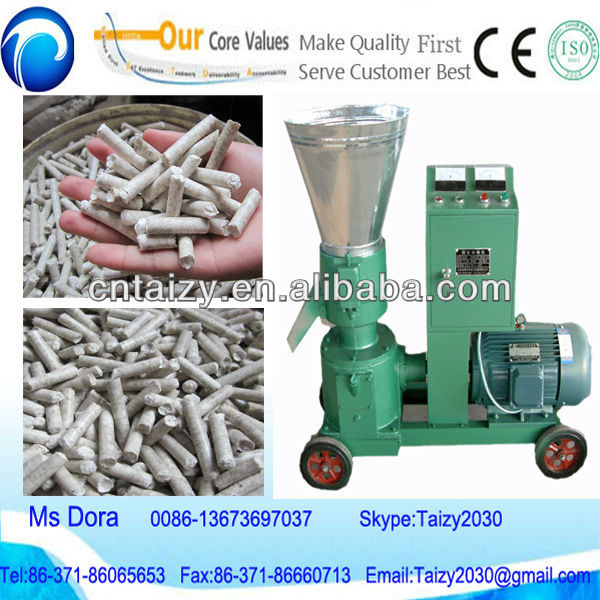 Brief Introduction of chicken manure pellet machine:
The raw material for this machine can be the food grain like corn, wheat and the crushed waste from agriculture for example, corn straw, groundnut shell, grass, wheat bran, sawdust, and animal manure and so on, they can be pressed into both feedstuffs for many kinds of animals and biomass fuel, the diameter of the pellet can be 1.2mm-12 mm, when processing ,the lower temperature can maintain the nutrition of the products. And through general extrusion, it can kill micro organisms, parasites to prevent disease and to store it easily.
Main technical parameters :
| | | | |
| --- | --- | --- | --- |
| Model | Capacity | Power | Net Weight |
| TZJ120 | 50-80kg/h | 2.2kw | 50kg |
| TZJ150 | 70-100kg/h | 3KW | 80kg |
| TZJ180 | 80-200kg/h | 2KW | 120kg |
| TZJ200 | 190-320kg/h | 5.5kw | 180KG |
| TZJ210 | 180-420kg/h | 7.5kw | 230kg |
| TZJ230 | 300-550kg/h | 7.5KW | 250KG |
| TZJ260 | 350-600kg/h | 11kw | 430kg |
| TZJ300 | 1300-1750kg/h | 18.5kw | 610kg |
| TZJ400 | 1800-2500kg/h | 22kw | 950kg |
Processing materials of chicken manure pellet machine :
All kinds of corn straw, straw, rice, wheat straw, wheat shell, a dearth, bean straw, cotton stalk, medical slag, branches, leaves and wood chips, sawdust, hay, discarded bag, and all the things that may be edible fungus suppression of the waste from the fuel.
1)Raw material size requirements:≤5mm.(If larger, crusher should be used.)
2)Best raw material moisture:8%-12%.(If larger, dryer should be used.)
Advantages of chicken manure pellet machine:
* The key parts are made of alloy steel to be very strong and malleable. * Widely used in palletizing for wood, straw and rice hull and other biomass sources.
* The imported key elements are of high performance with long life and low maintenance cost.
* Stainless steel ring die is made with international advanced equipment for long lifespan.
* Drive with heavy-duty gearbox, which can produce continuously in most adverse condition.
Machines for making pellets working Principle:
Flat die pellet feed machine is a machine based on circular movements, motor-driven, driven pulley to the spindle and the flat transmission mode, under the influence of the friction, pressure roller rotation, the pressure roller and laminated create friction between the temperature, powder material by high temperature gelatinization and protein coagulation degeneration, in the squeeze roller, the discharge from the die hole, through the adjustment of the cutter can be the required length of particles in the feed tray will be made by the rejection of particles by the discharge port discharge.
Machine pictures :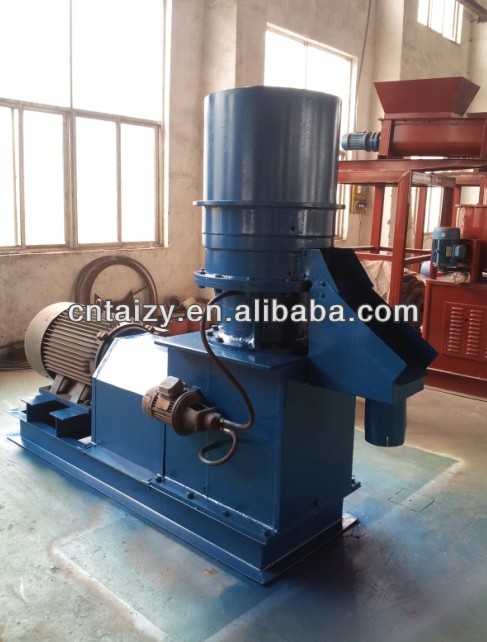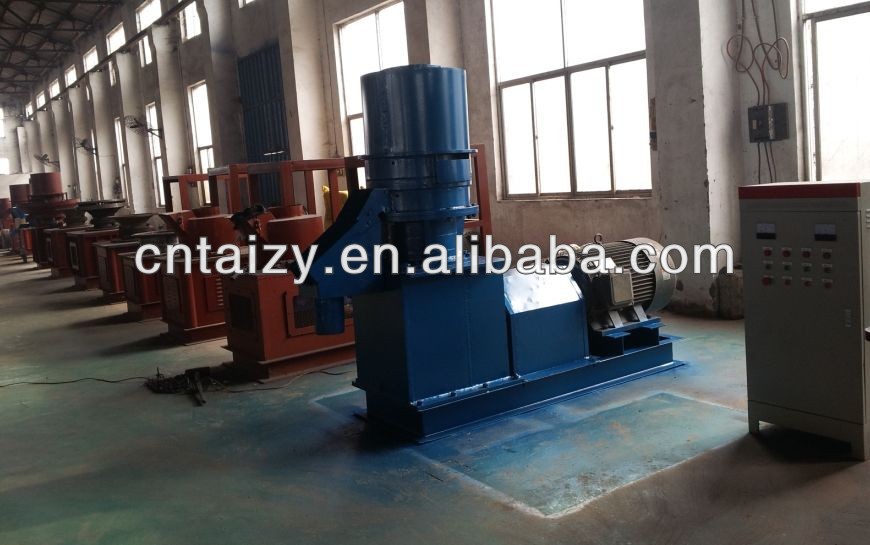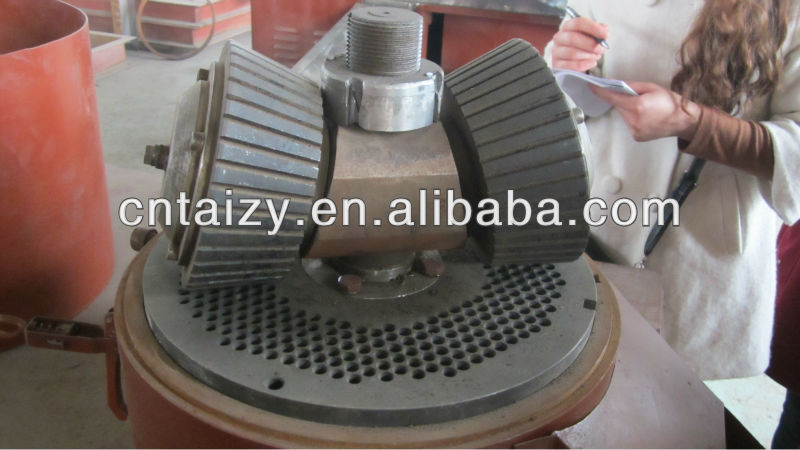 Final products:
Application :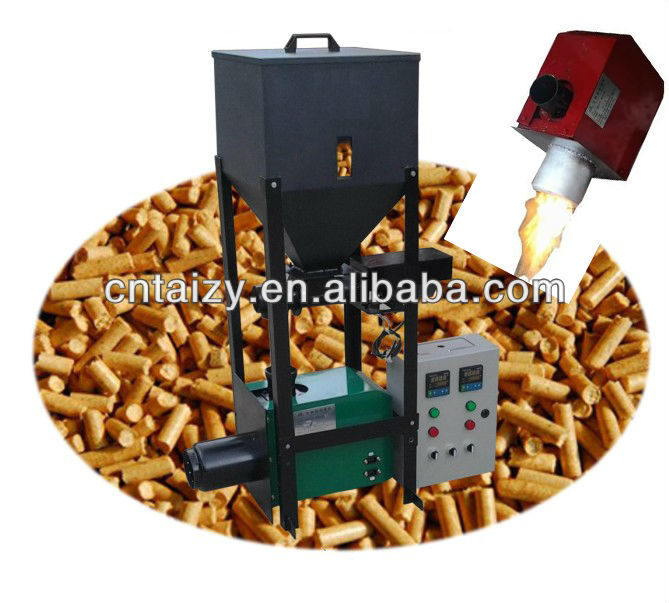 Widely used animal feed pellet machine chicken manure pellet machine adopts world-class technology to customize and produce special racks. High strength, high wear resistance, sharp teeth, uniform and delicate powder slag processing, higher starch extraction rate. The replacement of racks is quick and easy, which greatly reduces the labor intensity of labor and greatly increases the production efficiency. The separation part adopts a non-frame type three-section separation structure, which has small resistance and is more energy-efficient.
Widely used animal feed pellet machine chicken manure pellet machine main functions:
For the extraction of potato starch, automatic fresh potato feed, crushing, separation, slagging, pulping. is also suitable for sweet potato, sweet potato, hawthorn, kudzu, plantain, and cassava.
advantages:
1: The smashing part is the first to use thorn bar type, discarding the manual sprint method in the past.
2: The lifespan of steel piercing teeth is twice the life of the previous piercing teeth, and can be replaced in ten minutes after wear.
3: The separation section uses a thick 40cm diameter separation tube, the separation is more clean, and the powder extraction rate is more than 99%.
Jinan Joysun Machinery Co., Ltd. is a modern food machinery and equipment manufacturing enterprise integration R&D, manufacturing, sales, and after-sales services.